Back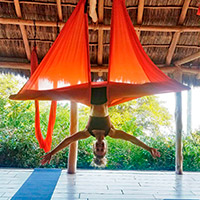 Aerial Retreat
From February 4 to 11 2023
Join Erin Larson, AIR® Studio Owner and Master Trainer, for an unforgettable adventure in paradise. This week-long retreat and optional Aerial Fitness Teacher Training will include daily aerial classes, meditation, workshops, and excursions with plenty of beach and pool time in between.
Stay in luxurious ocean front accommodations nestled between jungle and private pristine beaches. If you're looking to unplug, reset, and deepen your aerial practice, then this retreat is for you!
This retreat is open to all levels. No prior aerial experience is required.
Save your spot