Back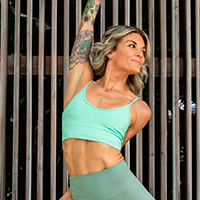 Bhumi Jungle Retreat
From April 22 to 29, 2023
Celebrate Bhumi Devi, the Earth Goddess, while being immersed in one of mother nature's most beautiful destinations. Join us where the jungle meets the sea for a yoga retreat in paradise- Puerto Vallarta, Mexico. Reawaken your most authentic version of you through yoga, chanting, meditation, breathwork, & connection with Xinalani's natural habitat. Hosted by Miami based yoga instructor, Ashley Boice, with special guest, Alejandra Diaz, sharing her magic through music & meditation.
Explore, relax, & reset in the breathtaking natural beauty of Xinalani. Ashley will guide you through power flow yoga classes with hands-on assists in the mornings followed by yin & slow flow yoga classes in the evening with music & meditation lead by Alejandra. Eco-chic accommodations & all-inclusive plant based meals (fish & chicken options). Relax on the beach or by the pool, visit the holistic spa, snorkel, kayak, surf, & more! Waterfall Hike & Cacao Ceremony included in your stay. Optional Temazcal Purifying Ceremony experience, a traditional Mesoamerican sweat lodge.
If you're ready to tap into environmental consciousness & call forward your most authentic version of you, then look no further. We would love to share this life changing experience with each & everyone of you!
Save your spot