Back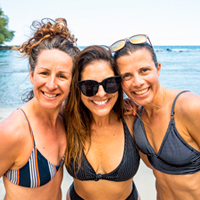 Far Out Foundations of Health
From May 27 to June 3, 2023
A 7-day down-to-earth health retreat that will leave you feeling out-of-this-world good.
Join Dr. Kellie Moore, ND and Bree Dillon, E-RYT to explore the five Foundations of Health— stress management, nourishment, movement, rest, and connection. Over the course of the week you will feel the compounding benefits of putting these into practice while enjoying the slice of paradise that is Xinalani.
Includes yoga, meditation, nourishing meals, daily learning modules, a guided hike, cacao ceremony, professional photos of the week, gratuity, taxes, & boat transport. Plus your own free time to recharge at this stunning beachfront retreat center in Mexico.