Back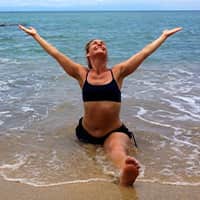 Happiness Yoga Retreat in Paradise
From May 20 to 27, 2023
Join Leila Swenson for her 8th annual Happiness Yoga Retreat at beautiful, magical Xinalani! Xinalani is a lovely, eco-friendly Retreat Center with an environment suited for both adventure and relaxation, as well as immersion in your yoga practice.
With yoga classes twice a day, the stage for transformation is set… The theme of Happiness is explored through yogic principles in Vinyasa Flow classes, which include breath-work, mantra, meditation, and deep relaxation.
During your day aside from yoga, you can enjoy hanging out at the beach, swimming in the pool, relaxing in the hammock, reading a good book, meeting new friends, getting a massage, snorkeling, kayaking, and more!
The cuisine at Xinalani is delicious and healthy with delightful vegetarian/vegan dishes, (although there will be chicken and fish options included on the menu).
This is a wonderful opportunity to de-stress, take care of yourself, connect with your community, and try new things… a remarkable yoga and life experience!
Save your spot