Back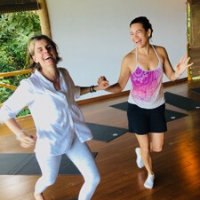 In Joy : She Shines 2020 Retreat
From November 13 to 20, 2021
7 Days of goodness.
Pause and Reset. Body, Mind, Soul … Life. Be. Deeply. Nourished.
Nourish Your Body
Xinalani is known for its healthy, gourmet meals. Pamper your senses and nourish yourself as you enjoy delicious meals while immersed in the sounds and smells and sights of this nature ocean-side paradise.

Clear and Calm Your Mind
This retreat offers various yoga and mindfulness practices. Drop out of your mind and melt into the restorative and heart connecting practices of yoga nidra and yoga therapy.

Nourish Your Feminine Soul
Soulful life coaching with journaling/art as well as nature activities, dance and meditations will be woven in during the week to support you in tending those fires of peace and joy in you and reconnecting you to You … to your your wild heart and your creativity, clarity, softness, presence, brave and strength.

Reset
This week is all about connecting with You. Connect with your radiance in the embrace of nature, sisterhood and the care of the staff at Xinalani.
More info right here.
Save your spot