Back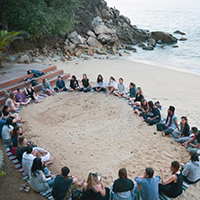 Just be Well-ness Retreat
A Trip For The Soul
From July 17 to 22, 2023
YOGA – NATURE – ADVENTURE
Reconnect with your true self, and fill your soul with unique experiences. like Wakinecg up in the middle of nature. Start your mornings with mindfulness and vitality through daily yoga and meditation classes.
Nourishing your body with healthy and fresh food, hiking and enjoying beautiful sunsets with spectacular panoramic views. Imagine delighting yourself with a delicious local herbal tea, in front of a campfire while you share anecdotes with the locals.
Life on earth is too short! Take a break from your daily routines for 6 days to deepen into your inner self and return home with peace and a healthier body.