Back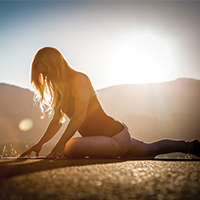 Quietude Yoga Retreat
From February 22 to 29, 2020
This Quietude retreat is designed as a healing yoga retreat. Time to reconnect with yourself and to get quiet in the ways that help you feel more grounded and centered. In this era of "busy", it can be challenging to maintain a sense of inner peace. The intention of this retreat is to 'unplug' from your life and reconnect to your own source of power (you will still have access to wifi & phone should you require).
The Quietude retreat is designed to have playful flow asana (yoga) classes in the mornings and end with a quieter practice that is coupled with breathwork or meditation. However, there will also be opportunities to adventure and go on day trips. You will sleep, play, connect, eat well and enjoy limitless hours by crystal blue waters or wander the trails around Xinalani. You will reconnect once again to your inspired self, and receive a deep reset, down to a cellular level.
Noelle will skillfully support & guide you to connect inwards, to retreat and reconnect to your innermost passions, rediscover yourself, and help calm busy minds.
Join to Quietude Yoga Retreat!

Save your spot