Back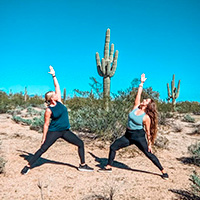 reSET Your Rhythm
From September 17 to 24, 2022
Join Penny and Beth for a week of self-care at Xinalani! This exclusive yoga retreat in Puerto Vallarta is nestled along the coast of the emerald ocean and surrounded by lush jungle.
reSET Your Rhythm through vinyasa flows, fitness-inspired fusions, restorative surrenders, meditation, and sound therapy sessions. Connect with a variety of uplifting and reflective rhythms that will inspire you to rise to your next level. We are positive vibe instructors known for our awesome playlists and variety.
You will also have plenty of time to relax, restore, explore, and create community. All levels are welcome.
Take time to get still, explore, and trust as you reSET in this tranquil retreat.
Save your spot