Back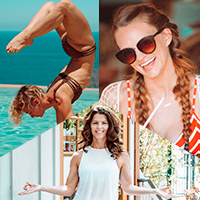 Shake the Dust Yoga & Energy Awareness Retreat
From February 5 to 12, 2022
Join us as we "Shake the Dust" so to speak through self-exploration and expansion through physical asana, meditation, and energy work. Our journey takes place at Xinalani – an exclusive Yoga Retreat Center nestled along the coast of the emerald ocean in the lush jungle surroundings of Puerto Vallarta. We will work through creative yet approachable chakra-focused yoga sequencing meant to invigorate and restore, bringing balance to the mind, body, and spirit. All levels and ages welcome!
In addition to yoga, you will have the opportunity to learn more about Reiki, a natural hands on healing technique using "universal life force energy" the energy that is flowing abundantly around and within all living things. Receive level one attunement which awakens you to the Reiki energy flow. Reiki level one is meant to heal on the physical level. At this stage, Reiki is used as a self-healing technique and as a means of deepening your own energetic awareness.
Collectively we will move, feel, breath, and bond, enjoying all of the beauty that connection offers, with plenty of space and free time for you to simply be with you.
Save your spot