Back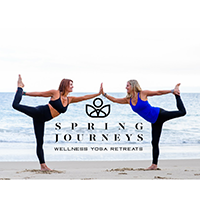 Spring Journeys • Wellness Yoga Retreat
From May 16 to 21 2020
Spring Journeys Wellness Yoga Retreats offers you time. Time to relax, recharge, rest, sweat and breath your way to optimal wellness. Allow yourself the space to unwind, step out of the grind to re-connect with yourself. During this 5-night wellness focused retreat, you'll gain tools & knowledge to enhance your health. Practice positive hatha vinyasa flows & restorative yoga with instructor Brig.
Join the casual conversation in our wellness workshops with Dr. Kelly and expand your health awareness. We'll share take-home tools that can be applied to your everyday life. Looking thru a holistic & integrative lens, learn to live your healthiest & fullest life.
Take a journey with us.

Save your spot