Back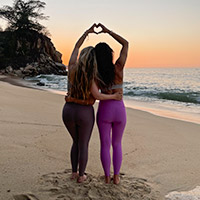 Steady Waters: A Return to Normalcy
From December 3 to 10, 2022
Join Morgan and Casandra on their 3rd annual retreat at Xinalani. Join in community as we all take a collective breath to come out of the tumultuous past two years. We will use asana (upbeat flow, informative alignment, and steadying yin) to delve deeply inward and release what we have been holding onto.
Spend 8 days and 7 nights with Morgan and Casandra to live in the present moment, open your hearts, and celebrate all that we have. Spend days practicing progressive and transformative asana, eating healthy and delicious food, lounging on the beach, and exploring the sights of Puerto Vallarta.
You will have the chance for self-reflection chance for self-reflection and nurturing your spirit, laughter and camaraderie with friends, and most importantly much needed time to recharge.
Save your spot