Back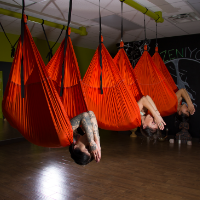 Stretch. Transform. Fly.
From September 26 to October 03, 2020
Stretch. Transform. Fly. (Aero & Yoga Retreat) We believe stretching leads to transformation freeing you from that, which is limiting you. Change is evident all around nature. Seeds expand, grow and break free through the ground. Caterpillars evolve, transform and change to become beautiful butterflies. In the same manner, we are to stretch our limitations to transform and fly free in life. For 8 days and 7 nights, our Aero & Yoga Retreat invites you to step into this magical transformation at this beautiful sanctuary, Xinalani.
We will practice various styles of yoga using all 6 studios from Aero Yoga and Cocoon Meditation to Hot Vinyasa. We will be eating healthy and delicious food, relaxing by the beach, hiking and having off-site adventures.
You will stretch, transform and recharge with like-minded people taking your practice back home ready to fly free!

Save your spot