Back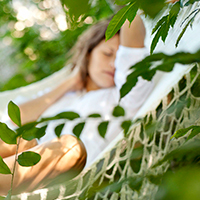 The Joy of Living
From February 19 to 26, 2022
Imagine taking a week to yourself where you have no commitments other than those you keep to yourself, no responsibilities for anyone or anything other than yourself. What if you walked away from that week with more clarity as to how to infuse joy into your everyday living? How would that feel? What would that look like? What would your family think?
Through light programming, two yoga classes per day, an isolated location and plenty of time for relaxation and natural exploration – my intention of this retreat is to give you just that. A week to yourself so you return to your family refreshed and aligned with what it is that brings you joy, and how to usher more joy into the everyday.
This retreat is not to just get away from life, but to rediscover the joy in life. I do hope you'll join me.
Save your spot