Back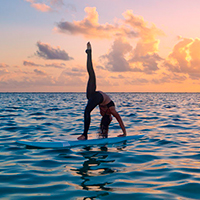 Women's SUP & Yoga Adventure Retreat
From June 1 to 8, 2024
Join us for a week of adventure, exploration and friendship!
Rejuvenate your body and soul through a variety of yoga and pilates sessions designed to embrace mindfulness and promote inner strength and tranquility. Unplug and soak in action packed days in this jungle paradise through daily adventures including guided hiking and waterfall swimming with nature experts and marine biologists, daily paddleboarding clinics/outings, salsa dancing and in your free time enjoy hanging out at the beach, taking a cooking class, sweat lodge ceremony, swimming in the pool, reading a book or getting a massage!
All meals are included; you will be nourished with sensational, chef-prepared healthy Mexican cuisine accommodating all dietary needs and preferences.