Back
Outside Activities When You Are on Vacation
|
September 8, 2018, 9:43 pm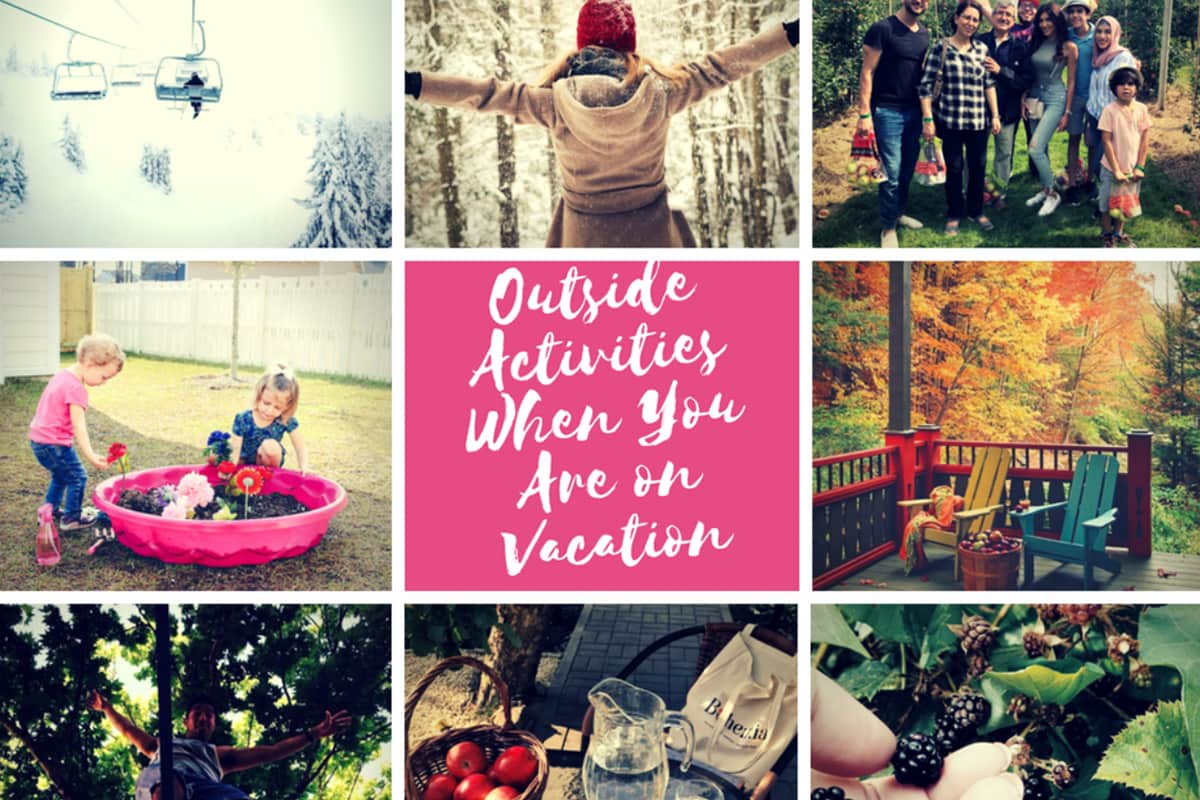 Did you know that today, nearly 1 in 6 children and 1 in 4 adults is overweight or obese, and the
statistics show
that these figures are going to increase dramatically (for example,
childhood obesity rates
have tripled during the past 30 years)? Eventually, it leads to diabetes, various heart disease, joints, feet, knees, and back issues.
Active rest during our vacations is probably the most effortless way to improve the situation, mixing the pleasure and incredible health benefits. In addition, you've got a chance to bond with your family or friends, take cool pictures, without spending a fortune on your chill out.
So, here we've prepared for you some fun and budget-friendly ideas of outside activities when you're on vacation to keep fit, healthy, and happy at the same time:
Spring is when nature awakes, so it's the best time to get inspired and start something good for your body and mind. If you've got a short vacation in spring, you're a lucky, 'cause it is an incredible opportunity to enjoy these fantastic spring activities:
Stargazing: bring along a constellation book and a telescope to see faraway stars and constellations in the nighttime sky.
Planting: spring flowers, veggies, or trees – they all will add some color to the barren patch of dirt as well as brighten your vacation memories.
Picnic: it's already warm enough to enjoy the sunshine in a park, and the light spring wind mixed with the blossoms.
Playing Sports: softball, golf, tennis – all outdoor games are available now, and it's not too hot to play.
Catching Butterflies: break out you're your net and try to catch a couple of beautiful butterflies; observe them closely, take some pics, and let them go soon after.
Stay creative and it'll turn up that there are thousands of other fun spring outdoor activities to do during your vacation:
Boating
Birdwatching
Rock climbing
Flying a kite
Blowing bubbles
Climbing a tree
Eating out
Catching a spring breeze through the open window
Visiting the zoo
Walking along a sandy beach
Summer is the period when all the crazy stuff is reasonable: you're free to do whatever you like and want, and nobody's gonna judge you. So think it over, and here are several ideas for inspiration:
Riding a Bike: renting a bike is a cool way to explore a new city in summer; also, a bike ride gives a completely different view of your home city, so it's definitely the option number one.
Hiking: the classic camping activity is an awesome opportunity to reconnect with nature, recharge your inner battery, admire beautiful landscapes, and benefit your health as well.
Bungee Jumping: for madcaps, we offer this thrilling activity, that will probably become the brightest memory of a lifetime.
Camping: building tents, making a fireplace, cooking from what you've found in the wild, sharing the dinner with family or friends, sleeping among the stars – what summer activity can be more romantic than camping?
Also, consider spicing up your summer vacation in these ways:
A trip to the underground caves
Swimming
Diving
Snorkeling
Kitesurfing
Riding an elephant in Asia
Zip-lining
Horse-riding
Stand-up paddleboarding
Canoeing
When the snow's around, winter is such a fun! So, if you live in a hot country with sunny and wet winters, we strongly recommend you to spend your vacation in the place with snowcapped mountains, that allows doing great winter activities from our list:
Snowshoeing: great for all ages, this outside winter recreation lets you explore the wilderness and get a little bit of aerobic activity in.
Sledding: find a good hill and glide through the cool air on a sled – a fountain of emotions is guaranteed.
Ice Fishing: if this popular outdoor activity is your cup of tea, all you need to do in advance is to book a fishing hut, depending on your preferences – from luxury to bare essentials.
Skiing: not surprisingly, skiing is also on our list, as it's the most popular winter activity worldwide.
Also, winter vacation is almost impossible without these entertainments:
Snowboarding
Ice skating
Creating snow angels
Making a snowman
Building an Igloo
Fighting with snowballs
Despite autumn seems to be the most boring and depressing season, lots of fun can be experienced during the fall in case of the right approach. Don't get upset if your vacation is in October this year – check out our autumn activities ideas and make this time cozy, warm, and full of memories.
Fall Photo Shoot: red, yellow, and orange leaves is a rich backdrop for photography, so don't omit this opportunity to jump in a leaf pile and get lots of beautiful pictures.
Harvest Festival: a party on the occasion of wrap up the growing season and transition into autumn can be a real fun which includes apple cider pressing, hayrides, products sales, farm tours, and lots of other untypical entertainments.
Bonfire & S'mores: yes, you can make s'mores sitting around a bonfire anytime, but a chilly autumn night really makes it special.
Wagon Ride: this will add some old-fashioned fun and romantic atmosphere to your typical autumn vacation.
Still not sure how to make your autumn vacation activities breathtaking? Scroll down the list of extra ideas:
Apple picking
Puddle splashing
Jogging
Participating in park events
Visiting a vineyard
Planting flower bulbs or winter veggies
Visiting a haunted house
Watching the birds fly South
Playing Halloween games
Picking pumpkins
Remember that moser nature doesn't have bad or good seasons – it all depends on our perception, mood, and determination to have the best vacation ever. So, don't grumble and live a fuller and happier life no matter what!
Xinalani's All Inclusive Packages
Rooms and Casitas
All Inclusive Packages