Back
5 reasons why your next yoga retreat should include aerial yoga classes
|
February 20, 2020, 11:54 am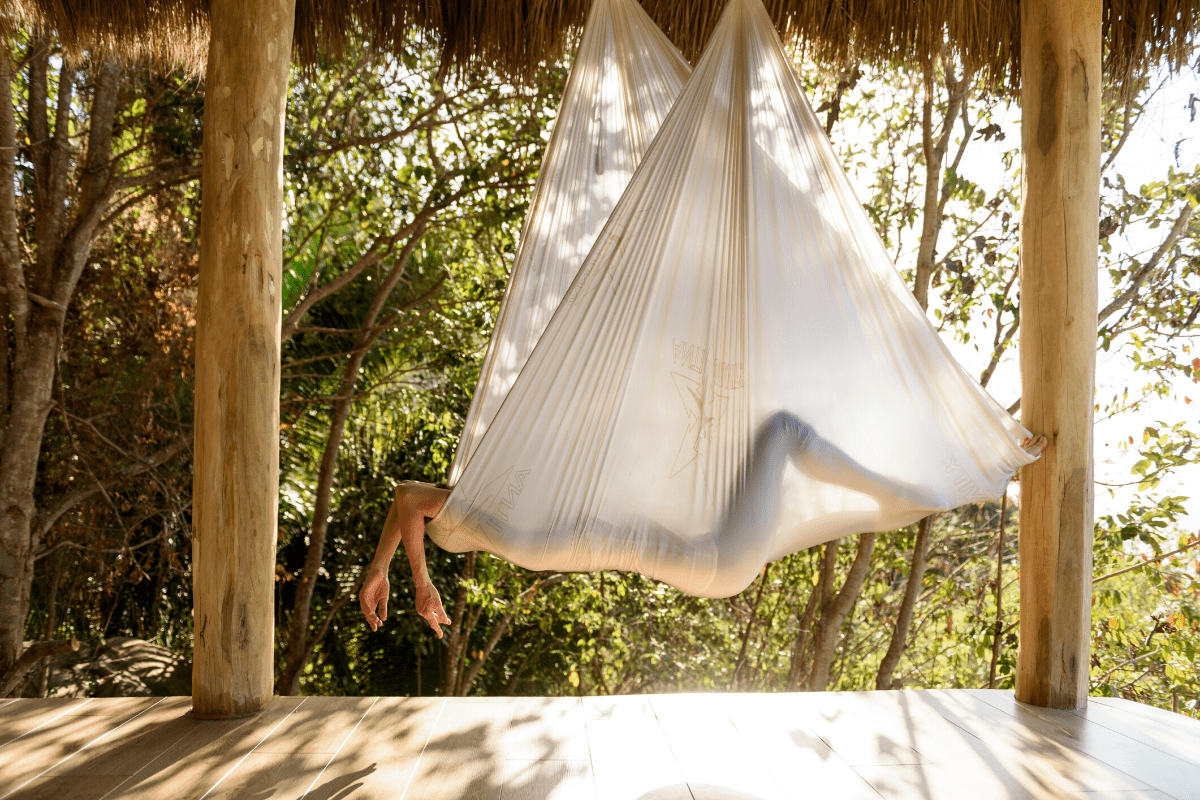 The most recent addition to the Xinalani experience is the Aerial Yoga Studio, a magnificent high ceiling palm-thatched hut with dramatic jungle and ocean views. Why Aerial yoga should you ask? Well, it turns out there is more to do on a hammock than taking a well-deserved siesta (which is Spanish for a nap). We have so many sorts of hammocks here on the Pacific coast side of Mexico, that it seemed like the perfect place for that new yoga practice!
Xinalani's All Inclusive Packages
All joke apart, for us, aerial yoga was love at first sight; and we believe all our guests, instructors, and group leaders should share the joy of flying asanas above the jungle, surrounded by the ocean.
Beautiful Eco Chic Rooms and Beach Casitas
So what is it about?
Aerial yoga is a new workout trend that was born from a blend of circus arts, gymnastics and Iyengar yoga. An aerial yoga class starts just like a regular yoga class, with the certified yoga teacher facing the students for visual instruction. All practitioners are standing beside a wide colorful hammock tied up to a carabineer and hanged from a beam. The aerial yoga hammock is made of a very thin yet incredibly resistant silky fabric. A daisy strap allows yogis to select their ideal height during practice, adjusting the carabineer to their preferred level.
For those of you wondering if it is safe, just imagine that the hammock can support 12 times your weight. The beginning of the class will show you how to trust the hammock through a short series of movements through which you will wrap your whole body in silk.
Welcome on board for a revisited experience of your asana series. Beginners are totally welcome. In fact, aerial yoga could very well be your very first approach to yoga. Here are 5 reasons why you should give it a chance during your next retreat at Xinalani.
1. Aerial yoga is thrilling and liberating
Remember the times when your dad would push you on the swings so fast that you thought you might take off and fly across the park? Well, calm down, you've grown up and it's not as crazy as this. But the Aerial Yoga practice does wake up that inner childlike thrill as you will inevitably swing while learning to practice your first gravity-defying yoga pose under the supervision of a certified yoga instructor. So it's kind of playing acrobat only safer.

Not only is it giggling funny, but It's also incredibly liberating. During our very first class, we got to practice a few variations of back bending postures that with the help of gravity, somewhat tapped into restrained emotions. "I felt that hanging upside down with a gentle curve in my back totally decompressed my spine and erased all pain in my back. Strangely enough, it also released all sorts of emotions from laughter to tears that seemed stuck inside my heart", says Jenny B, a 30 something new yorker who was at Xinalani for the third time this winter but was taking her first-ever Aerial Yoga class.
2. A low impact workout that does wonders on your body
As you move forward into the practice, you realize the teacher uses the hammock as a new sort of multi-use yoga prop. You use its support to ease tension on your joints and improve alignment and flexibility. As a result, it feels more progressive and the impact on the whole body seems lower. We definitely recommend you play around the flying pigeon pose, a personal favorite.
Another benefit of aerial yoga is the deep engagement of the core muscles as you try to maintain balance without shaking. It's also pretty challenging on the arms when pulling up to change postures without the use of your legs. Remember to listen to your body and identify your limits, some yogis love challenges so much they sometimes engage in an unnecessary strain that can result in injuries. Take it easy, take it slow and enjoy every moment of the journey. The whole point of yoga is to remain healthy.
3. The Aerial yoga practice is an invitation to do a deep focus and mindfulness.
As with all new skills you acquire, you will need to be fully focused to master even the most basic postures. As you swap the mat for the sack, a lot of things are going to change because you're stepping on new grounds. For some, it's like starting over and learning yoga from scratch. At this point, you will pay intense attention to your teacher's instructions and your body's reactions, the concentration effort will automatically rid your mind from distractions and inner chatter. It's truly a pleasant mindfulness practice that will calm your mind and further induce a meditative state.
4. Aerial yoga may help intermediate yogis break a plateau in their practice.
We've said it before: Aerial yoga is fully suited for complete beginner yogis as long as they have an adventurous temper.
However, an interesting fact we found out about: some yogis with an intermediate or advanced practice reported that a few aerial yoga classes helped them interrupt the dullness of repetitive series and made them discover new paths to explore.
Indeed, changing one's approach to yoga may trigger new unexpected progress. Amy H. a 42-year-old lawyer/yogini from the Bay Area felt ecstatic: "This series [of aerial classes] this week unlocked many postures where I'd felt stuck for months. It felt as if the silk gave me the confidence to move deeper into the pose. I'm gonna keep digging."
Our personal favorite was the arm balances workshop we took on the hammock. Since the hips are supported by the swing, you don't need to use the wall anymore. You later go back to your mat with increased confidence and better skills.
5. A new sense of relaxation
Most yoga asanas are adaptable on the hammock, with more or less creativity. Make sure you try inversions. Leaving your hips firmly locked in the fabric, let your upper body hang loose upside down and enjoy the blood rushing to the head as you take long relaxing breaths in and out for a few short minutes. Of course, the cherry on the cake as the class draws to an end and the sun is setting over the ocean is to swathe your whole self up into the silky cocoon and surrender to an unforgettable floating savasana… you just wish it never had to end.
So there you go, next time you visit us at Xinalani, make sure you spice up your retreat with a few aerial yoga classes, available upon prior reservation, additional costs apply. For more information, drop us a line at info@xinalaniretreat.com
Consider also signing up to the full week LIVE YOUR DASH AERIAL YOGA RETREAT hosted by Karin Hobbs, more information here.
Rooms and Casitas
All Inclusive Packages