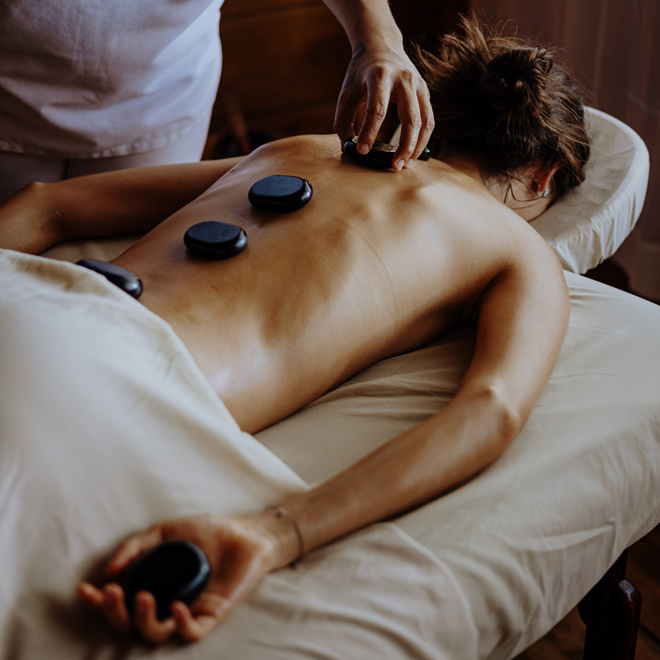 The subtle stimulation of the senses is the first step towards a fully balanced state of mind.
Connect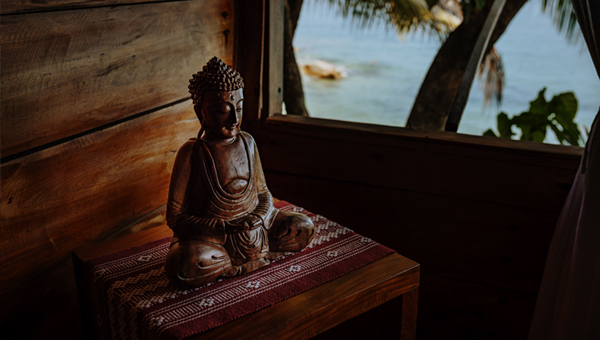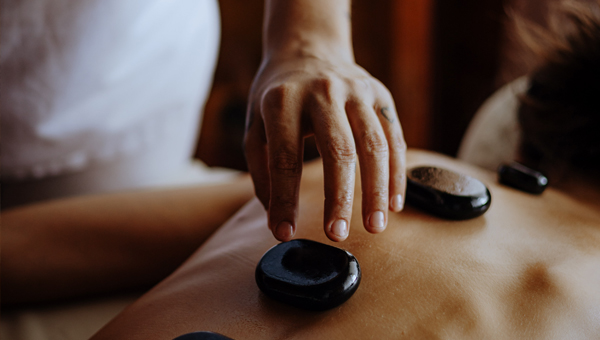 80 min
$140 USD per person
HAPPY YOGI MASSAGE
RELEASES - RESTORES - RELAXES
Restore your body after a vigorous yoga class with our special healing massage including a mix of relaxing techniques such as deep tissue strokes and Swedish massage, gentle passive stretching and a taste of sound therapy. The perfect package for our yogis.
HOT STONES MASSAGE
STIMULATES - ALLEVIATES - PACIFIES
This technique promotes deeper muscle relaxation through the placement of smooth, heated river stones at key points on the body. The stones are also rubbed in long, flowing strokes onto the oiled body. This blissful treatment will take you to an upper level of consciousness.
Heal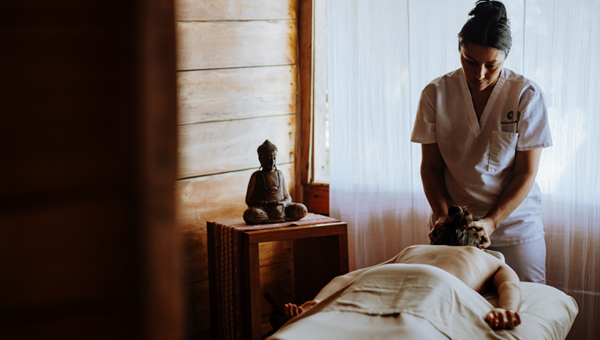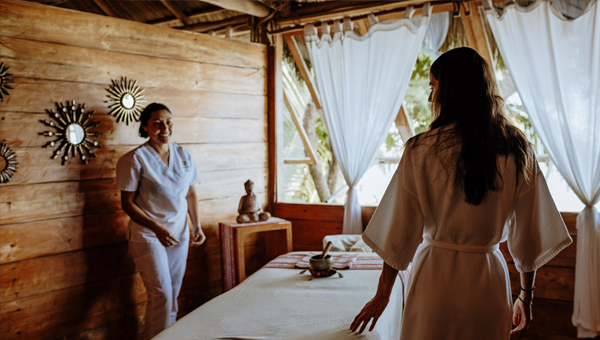 50 min
$120 USD per person
Choose from one of our custom-made bodywork therapies designed to heal and release deeply rooted stress. Consider how you want to feel after your treatment and give your mind and body exactly what it needs.

SOOTHE
DEEP TISSUE MASSAGE
When you need to ramp up your recharge. Fitness oil with menthol and eucalyptus notes.
DETOX
DEEP TISSUE MASSAGE
When you need a reset of body and mind. Detox oil with bergamot, lemon and ginger notes.
RELAX
RELAXING THERAPEUTIC MASSAGE
When you need a pause and a deep sense of well being. De-stress oil with lavender and patchouli notes.
ENERGIZE
THERAPEUTIC MASSAGE
When you need to breathe in vitality. Energizing oil with citrus notes of orange, tangerine, lemon, grapefruit and bergamot.
Body Rituals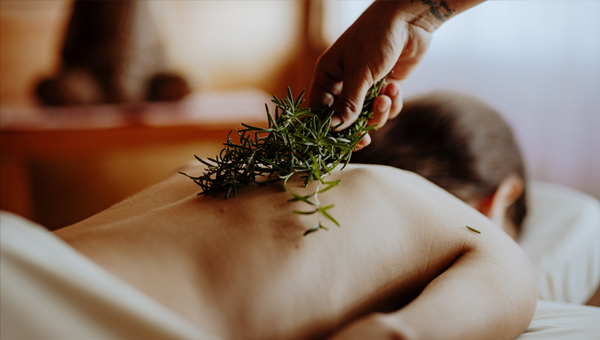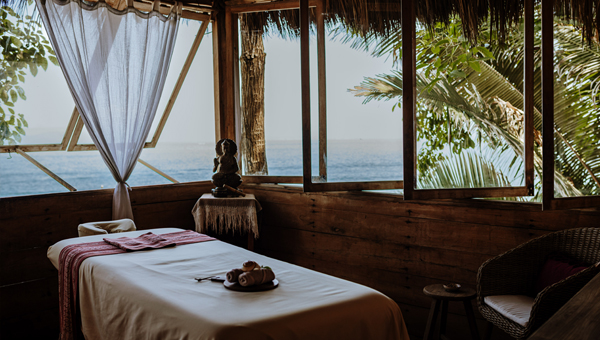 90 min
$160 USD per person
Delighting 90 minute sensory experiences that include treatments for face or/and body. Immerse yourself in a luxurious beauty treatment to completely transform your skin through the power of original active ingredients.
ROYAL CITRUS
REVITALIZES - PROTECTS; Facial + Scrub + Mask + Massage
Drench your skin in an intensely hydrating and firming Citrus ritual for face adn body. This revitalizing ritual includes an exfoliating citrus wrap and a soothing antioxidant facial. The treatment is completed with a luxurious application of body cream.
DIAMOND ALOE VERA
ILLUMINATES - NOURISHES; Scrub + Mask + Massage
Sink into this indulging texture and re-emerge with an amazingly soft and nourished skin. Feel the exfoliating magic of salt crystals and rice powder. A deeply hydrating body mask is applied all over the body. A nourishing cream completes this journey leaving your skin revived.
TEQUILA STONES
SOOTHES - RELAXES; Scrub + Hot Stones + Massage
Start with a gentle exfoliation and then receive a unique massage that combines, hands, arms and hot stones. All with a delightful recipe of tequila oil to release muscular tension and stimulate circulation. Enjoy the anti-inflammatory benefits of the Mexican agave azul.
Experience the sensational journey of radical transformation with our exclusive therapeutic ingredients
Facials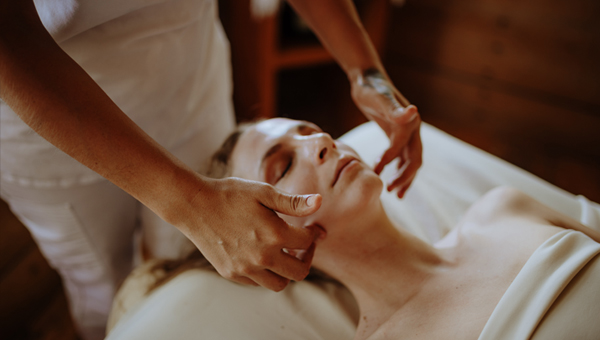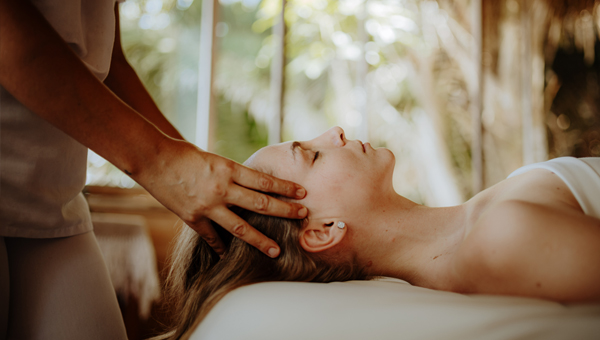 30 min - 60 min
$110 USD - $150 USD per person
For men and women of all skin types. Enjoy deep relaxation while our therapist pampers your skin with an aromatic exfoliation, light steam, and a nurturing mask. 
CITRUS VITA ESSENCE
REVITALIZES - STIMULATES - BOLSTERS
60 MINUTES$150 USD
An antioxidant treatment that restores vitality to sun-damaged skin and helps minimize signs of premature aging. Vitamin C stimulates collagen production and renews skin firmness, while improving luminosity and hydration..
O2 DETOX
DETOXIFIES - PURIFIES - OXYGENATES
60 MINUTES$150 USD
Purifying treatment. It includes a double cleanse to remove toxins that have built up in your pores and releases pure oxygen into the skin to provide energy, vitality and hydration. Regain your natural radiance.
LIFT & PLUMP
FILLS - RENEWS - STRENGTHENS
60 MINUTES$150 USD
Choose this treatment to revitalize your cutis and to lessen expression lines. An infusion of hyaluronic acid will provide intense moisture and help to visibly plump up the skin from the inside.
INSTANT GLOW
30 MINUTES$110 USD
Radiant skin in just 30 minutes. Fast and extra nourishing ritual in 3 steps serums that exfoliates, lights up and smoothes your skin erasing the signs of fatigue.
Hands and Feet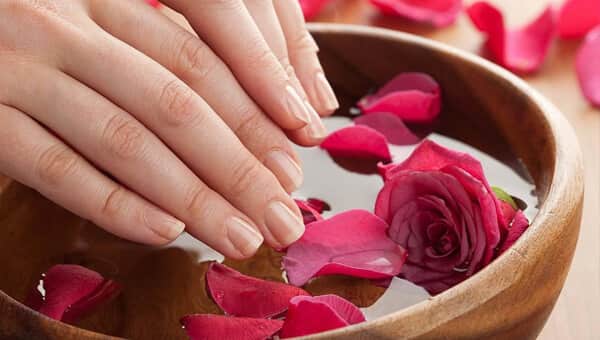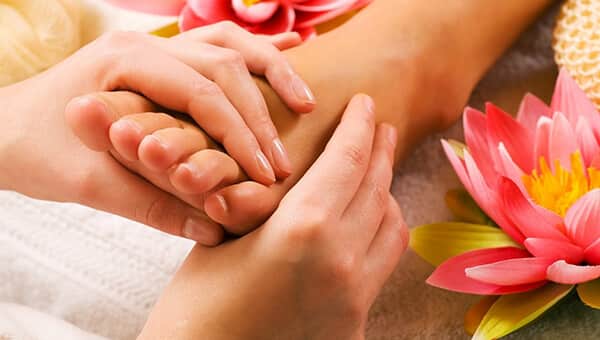 45 min - 90 min
$60 USD - $115 USD per person
MANICURE
45 MINUTES$60 USD
Beauty treatment for your hands and nails. This basic manicure includes nail shaping, cuticle care, hand and arm massage, finished off with perfectly polished nails.
PEDICURE
50 MINUTES$80 USD
Our pedicure includes a relaxing foot soak, nail shaping, cuticle care, callous softening, exfoliation, leg and foot massage.
HANDS & FEET PACKAGE
90 MINUTES$115 USD
Get both treatments at a discount.