Back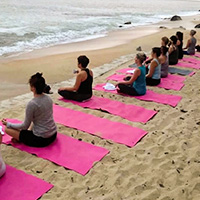 A Lot of Yin and some Yang * Here we come again!
From November 13 to 18, 2021
A beach yoga retreat is a perfect way to uplift our spirit, relax the mind and connect deeper within our bodies. From the lulling sound of the waves, the crystal-clear blue ocean and the healing power of the saltwater, the beach does more than just provide a pretty backdrop; it also makes you feel better from the inside out, just like yoga.
From sunrise vinyasa classes to wake your heart and an evening meditative wave-assisted yin classes to surrender your mind, body and soul into rest. You will focus deeper within and feel refreshed with a clear path. In between classes, choose from a wide range of activities, such as massages, jungle tours, kayaking, paddle boards, sweat lodge, lounging by the pool, reading a book or take a nap, it's your retreat.
The House yogis are known for their hospitality, everyone is welcome, you may come in as a stranger, but you never leave our group as one. This is our 3rd trip here, come see why we keep coming back.
Save your spot