Back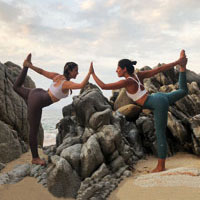 Alchemy of Joy: The Subtlety of Transformation
From March 13 to 20, 2021
Alchemy of Joy – Join us on our 2nd annual yoga retreat to Xinalani.
Alchemy (noun): a seemingly magical process of transformation, creation, or combination.
The intrigue of alchemy is that it transforms something of seemingly little value into gold or silver. Happiness, contentment, peace, and joy are the gold of the soul. The Alchemy of Joy Retreat invites you to step into the subtlety and magic of transformation in a way to transcend current states of being and step into joy. Without recognizing pain, loss, and disappointment, joy alludes us. Our thoughts are powerful and so we have the power to achieve the ultimate desire of inner content and joy. Spend 8 days and 7 nights with Morgan and Casandra to celebrate life, live in the present moment, and subtly transform your state of being.
Spend days practicing progressive and transformative asana, eating healthy and delicious food, lounging on the beach, and exploring the sights of Puerto Vallarta. You will have the chance for self-reflection and nurturing your spirit. laughter and camaraderie with friends, and most importantly time to recharge.
(SAVE $150/pp Early Bird – Book by November 1st)
Save your spot