Back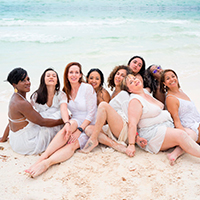 CONSCIOUS BODY
From September 24 to October 1, 2022
What if I told you all the wisdom you need to heal yourself, forgive yourself and deeply love yourself were already inside you? This knowledge lives in your beautiful body and your brilliant mind. It's waiting for you … to let it unfold.
The hustle of life can make this important work challenging. Sometimes, you need get away to discover and uncover your inner powers. Join us for CONSCIOUS BODY – A Women's Retreat.
Join me in paradise. We'll wake up to the ocean waves crashing on the surf under a sky full of stars – each one as unique and brilliant as you are.
You'll experience a week of deep exploration, sensual dance, joy, connection, and sisterhood.
Unwind and celebrate the beauty of the body you were born with, connect more deeply to yourself and be inspired by the healing energies of the nature and souls around you.
You will spend our days exploring all that is you through dance, somatic movement practices, feminine embodiment, yoga, and writing and mindfulness through a trauma-informed lens.
A $500 deposit by May 16, 2022 will reserve your place with us. We look forward to sharing this time and space with you. Choose you today.
Save your spot