Back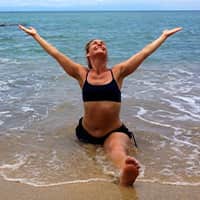 Happiness Yoga Retreat in Paradise
From May 21 to 28, 2022
Join Leila Swenson for her 7th annual Happiness Yoga Retreat at beautiful, magical Xinalani!
This lovely, eco-friendly Retreat Center has an environment suited for both adventure and relaxation, as well as immersion in your yoga practice. With yoga classes twice a day, the stage for transformation is set… The theme of Happiness is explored in Vinyasa Flow classes, which include breath-work, mantra, meditation, and deep relaxation. During your day aside from yoga, you can enjoy hanging out at the beach, swimming in the pool, relaxing in the hammock, reading a good book, meeting new friends, getting a massage, snorkeling, kayaking, and more! You will also be well-nourished by the Chef's delightful and healthy vegetarian and vegan dishes, with chicken and fish options included on the menu… The cuisine at Xinalani is delicious!
On this yoga retreat, you have a wonderful opportunity to connect with what is truly important to you and discover a deep sense of happiness from within… Treat yourself to this remarkable yoga and life experience!
Save your spot