Back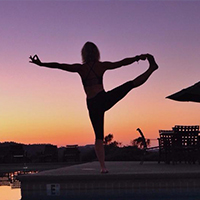 Love is the bridge
From November 27 to December 04, 2021
This week-long retreat is created in the spirit of Rumi's poem "Love is the Bridge between You and Everything". Amber and Monika will bring you a week-long experience of movement and reflection to shine a light into our hearts and souls and guide us to strengthen the connection with our true authentic selves.
We will play and learn to move with buoyancy and ease, hone our skills to listen in, balance the nervous system, and gain knowledge about chakras to build our vitality.
Every day of this retreat will bring a special theme incorporating active practice and mindful movement, Yin and restorative poses, Breath- and meditation techniques and energy-healing. Begin your days with a morning meditation, breath work, and an active practice.
Then enjoy a delicious breakfast and retreat activities of your choice.
Bookend your day with a slower practice made complete by a meditation
and special energy-healing ceremony.
Save your spot