Back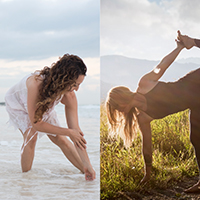 Making Your Life Sacred
From February 17 to 24, 2024
Moving Through Life with Pleasure
A week of Yoga, Exploring the Nervous system, Embodiment Practices & Happiness
We invite you to a week of yoga and embodiment practices designed to leave your mind calm, your body comfortable, and your heart courageous.
In one of the most beautiful spots on earth, this retreat will explore the confluence of yoga, movement & well-being, focusing on practices that help reduce tension and stress and increase pleasure and vitality in your body.
We will weave yogic practices (asana & pranayama), neuroscience, embodiment practices, polyvagal theory, the nervous & endocrine systems, and breathwork practices, to build pathways in the mind and body that make it easier to access PLEASURE and joy.
These modern and ancient systems collaboratively improve the vitality of your body, the function of your nervous system, and ultimately the happiness in your life.