Back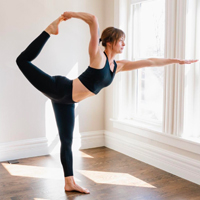 Refine, Relax, ReSource. With Jasmine McComas
From October 7 to 14, 2023
In this Yoga Retreat, we dive into movement, meditation, and mantra practices to strengthen the body and calm the mind. As a bodyworker, musician, and yoga teacher, Jasmine weaves together a special approach to yoga traditions and teachings. This combination of methods brings out your own intrinsic healing and wellbeing. You'll discover your own inner strength and gain awareness of your mind-body connection.
Whether you're looking to deepen your practice, recharge your energy, or simply escape to a beautiful, peaceful place, this is the perfect opportunity for you.
Join us for an unforgettable experience of yoga, relaxation, and connection.