Back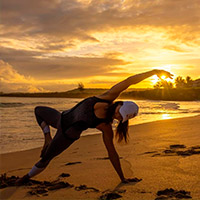 Restorative Pilates and Aerial Yoga Retreat – Remember your True Essence
From January 13 to 20, 2024
Leave the schedule behind and take time to reconnect with nature, with your breath, with mindful movement, and with your true essence… The self that longs to be wild and free! "Santosha" means contentment.
Contentment happens when we are in our body and fully present. It is the opposite of being in auto-pilot. During the retreat, we will introduce practices and tools to help you come back to your blissful self. Allow nature, laughter, and the ocean to wash away anything that no longer serves you – to create space for more abundance and love.
Many excursions are also available, such as a hike to a beautiful waterfall, temazcal, zip lining, paddle boarding, swimming with dolphins, and more. There is also a wonderful spa for delighting in body treatments.