Back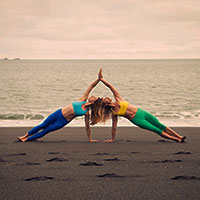 Revive Nia and Yoga Retreat
From March 12 to 19 2022
Experience two Nia faculty trainers, four Nia modalities and Yoga in a reviving, rejuvenating conscious movement retreat. Kelle Rae Oien and Jill Factor will be your guides for a week of pure relaxation, joyful movement and fun at Xinalani Retreat, an exclusive eco-resort located just 20 minutes from Puerto Vallarta, Mexico! Only accessible by boat, Xinalani is a sanctuary of wellness and serenity!
Each day, wake up to the sound of the ocean from your breathtaking ocean-front room. Be nourished by delicious and healthy local cuisine, enjoy daily Nia and Yoga classes in the stunning yoga spaces surrounded by nature and the ocean, indulge in a spa treatment, detox in a temazcal (ancient sweat lodge), or simply relax and soak up the beauty of your surroundings.
This retreat is for everybody – come with your partner, friends or alone!
Save your spot