Back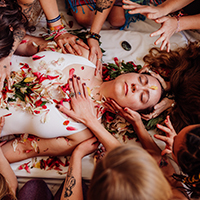 Rewild Retreat: Awaken Your Wild Woman + Set Yourself Free
From February 19 to 26, 2022
Are you ready to tap into the power + magic of your divine feminine nature?
The Rewild Retreat is a transformational process designed to help women recover their authentic expression that's hidden beneath years of conditioning, trauma, and patterns of self-abandonment.
Enjoy daily yoga and movement practices, sacred women's circles, cacao ceremonies, delicious farm-to-table meals, healing plant baths, tranquil immersion into nature, life-changing sisterhood, and a wild adventure that will leave you changed forever.
During this retreat, you'll come home to your body, shed your fears reclaim your power, and come fully to life in ways you were taught you could only dream of.
If you're ready to finally permit your wild woman to come fully to life, and leave those patterns of hiding + people-pleasing behind you for good, this is the retreat for you!
Save your spot