Back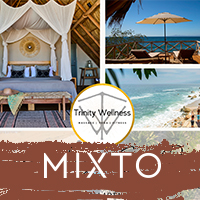 Sacred Bliss + Soul Renewal Yoga Wellness Retreat
From July 22 to 27, 2024
The Retreat Experience… MIXTO is a tropical oasis that provides a unique and authentic wellness haven in the heart of a picturesque Mexican fishing village right on the doorstep of a charming beach. You will feel sacred bliss and soul renewal not only during your yoga retreat practices but throughout this beautiful villa nestled in natural surroundings. The vibe is the perfect balance of rejuvenating rest, holistic activities, a chill gathering for friends and family or an ocean adventure.
YOGA AS YOU DREAMED IT!!! Featuring a NEWLY BUILT YOGA SHALA STUDIO SANCTUARY equipped with aerial yoga hammocks, open air palapa, ceiling fans, wide vistas that overlook the jungle, river mouth, ocean and mountain. Responsibly built wooden floors and designed by regional artisans using local sustainable grown wood. Don't worry about packing lots of yoga gear as the shala studio is fully equipped with Manduka yoga mats, straps, blocks, props, meditation cushions, blankets and bolsters are all provided for us. All designed to enjoy our practice in a natural setting by immersing ourselves in an unforgettable experience. CREATING THE ULTIMATE SANCTUARY FOR SELF-DISCOVERY!
Join us for a 6 day transformation with other inspiring yogis while experiencing rejuvenating yoga + wellness. Sacred Bliss + Soul Renewal Retreat is the perfect opportunity to enhance your yoga + meditation practices as you immerse yourself into this stunning jungle paradise! This private eco villa retreat, only accessible by boat, feels like an island getaway allowing you to get back to your true self. Each day will be filled with blissful relaxation to help you dive inward and fun eco adventures to let you be free.
Deeply connected to the land, MIXTO is designed to enhance your feeling of reconnection with nature. Each one of the levels of the villa features a new magical setting: At the top, 2 dreamy penthouses with elegant beds and a palapa roof, 4 cozy and peaceful beach houses overlooking the ocean and a private deck and pool meant for a complete blissed out day.
Our daily yoga offerings will range from energy invigorating to healing restorative while providing opportunity for posture (asana) play and expanding upon your yoga practice. Morning & evening classes will be 60 min in length with added daily journal prompts to meditate on. Between classes, there will be plenty of time to unwind and rejuvenate however you need: solo or with friends, adventuring into the jungle and sea, or pampering yourself with a relaxing massage! We are here to make sure you have the ultimate retreat experience, sending you home with a new sense of renewal, inspiration, nourishment and connection.