Back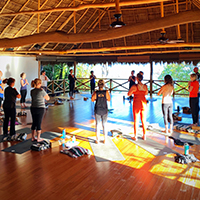 sol to soul
From April 13 to 20, 2024
We couldn't wait to go back! – It's the FIFTH time!
Join Jennifer Pahl & Cynthia Pedraza for an unforgettable, transformative, and rejuvenating 7-day retreat. With a native Mexican teacher, you may even leave with a few new Spanish words in your vocabulary and a renewed appreciation of this glorious culture.
Come prepared to explore, practice, meditate, learn, and have fun!