Back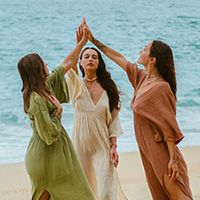 Wild Goddess Women's Retreat
From May 25 to June 1, 2024
A healing retreat for women ready to embrace all sides of their feminine energy – the soft, the fiery, the intuitive, the bold, the furious, the wild, the sensual, the creative – and to feel empowered through them all.
Over 8 days we will dive into a blend of spiritual practices and sacred rituals including yoga, dance, vocal activation, cacao, sound healing, tantra and pleasure practices, Temazcal, Reiki, meditation, womb wisdom, tarot, rewilding and much more. You will experience a connection to your true self, other women and the divine like never before.
The wild goddess within you is waiting to be reclaimed.