Back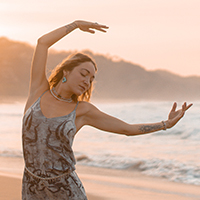 Wild Goddess Women's Retreat
From June 4 to 10, 2023
Join Cosmic Serpent retreat guides, Taylor Hunter and Rachel Kadara, for an expansive and inspiring journey designed to connect you back to your wild goddess essence.
Beginning on a full moon during Gemini season, this women's retreat will restore your radiance, celebrate your multifaceted feminine energy, illuminate your purpose and ignite your inner fire.
Through yoga, dance, voice activations, sound healing, tantra, Reiki, meditation, Human Design, breathwork and embodiment practices you will experience a connection to yourself and the divine like never before.
This retreat is for women ready to unite in sisterhood and embrace all sides of themselves; the soft, the fiery, the dark, the intuitive, the sensual and the creative, feeling empowered through all their shades.
The wild goddess within you is waiting to be unleashed.
Do you feel the call?