Back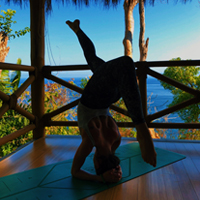 Chakra Rehab
From July 1 to 7, 2024
Embark on a life-changing journey with Chakra Rehab, a holistic yoga retreat nestled in the peaceful embrace of Xinalani Eco Resort. This transformative experience spans seven rejuvenating days, including two for travel and five for immersive practice. During Chakra Rehab, participants will explore the ancient wisdom of the chakras, diving deep into each of the seven energy centers through a carefully curated blend of yoga practices, guided meditation, and interactive workshops.
Each day of this retreat focuses on two specific chakras, smoothly transitioning from one to the next. The journey unfolds methodically, employing purposeful asanas, breathwork, and meditation to cleanse, balance, and invigorate these energy centers. From grounding sessions that connect with the Root Chakra to the profound realization of the Crown, you will progressively build knowledge and experience.
Complementing these spiritual practices, Xinalani offers an ideal setting with its eco-friendly accommodations, allowing guests to reconnect with nature. Their skilled chefs prepare gourmet, nutritious meals designed to nourish each chakra, using fresh, locally-sourced ingredients that promote overall well-being.
Chakra Rehab is more than just a retreat; it's an intimate voyage of self-discovery and renewed vitality. Amidst the natural beauty of Puerto Vallarta, participants will emerge feeling centered, revitalized, and in perfect harmony. Join us at Xinalani, where serene shores meet spiritual enlightenment.
Highlights: Beach Burial, Creative Workshop, Temazcal Ceremony, Ice Bath, Introduction to Reiki, Introduction to Ayurveda, Arm Balance Workshop, Backbend Workshop, Sound Bath, Myofascial Release.