Yoga as you dreamed it
Xinalani features 5 yoga rooms specially designed for yoga retreats. We can accommodate small and large groups of all yoga styles including Hot yoga. Our studios are built with natural materials and surrounded by nature, they all have amazing ocean and jungle views. We can also set up yoga practice on the beach front sand terrace or the wooden pool deck. All yoga rooms are fully equipped with mats, straps, blankets, stools, blocks and sound systems.
Gallery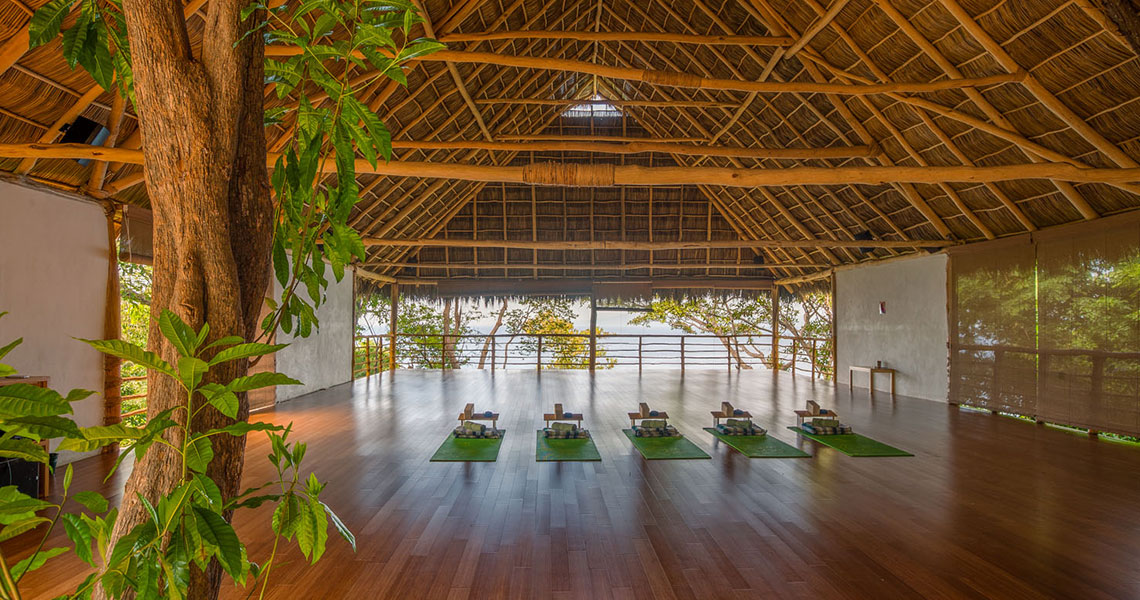 The Jungle Studio
A magnificent palm-thatched roofed temple situated on a hilltop with dramatic ocean views
The Jungle Studio is Xinalani's most awe-inspiring yoga studio. Entirely made of wood, it almost blends into its tree top surroundings. It is mostly open air but a few walls have been added to support students practicing inversions. The organic bamboo flooring offers a natural, comfortable feeling. A top of the range JBL sound system is available, although we often find that our guests prefer to let their practice flow to the sounds of the jungle and ocean waves. The Jungle Studio comfortably fits up to 65 mats. Dimensions: 60 ft x 36 ft. More Pictures
---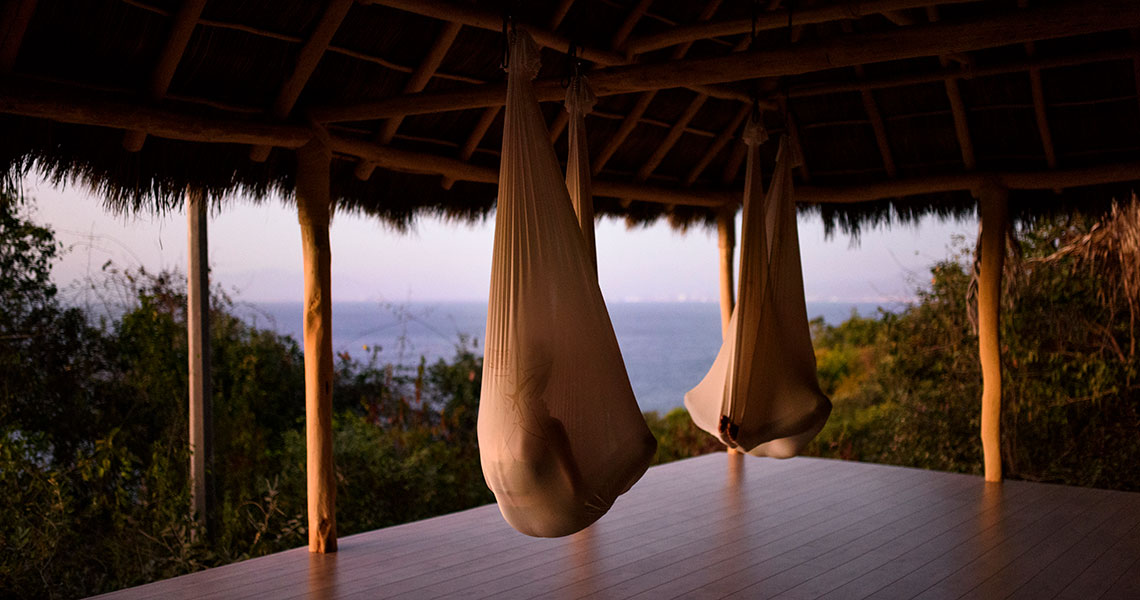 Aerial Yoga Studio
Majestic all-purpose yoga studio Designed without handrails, this wooden floored, palapa roofed yoga space is also equipped for the practice of Aerial Yoga and AntiGravity yoga. This heigh ceiling yoga hall can host up to 14 people flying on hammocks or 30 people flowing on mats. The 4 strong beams are 11 ft high and 40 ft long. They are perfect to hang hammocks. Guaranteed spectacular views for an unforgettable practice. Length: 50 ft. Width: 25 ft. Hammocks are provided. More Pictures
---
Meditation Cabin
Cozy palm-thatched yoga space nestled in lush jungle
Our Meditation Cabin is a 575 sq. ft. intimate space that will inspire heart opening yoga. It is perfect for vinyasa flow or Mysore style Ashtanga yoga. It can welcome up to 20 mats. The organic bamboo flooring offers a natural, comfortable surface for yoga practice. The large wall in the back can support anyone practicing inversions. The stunning views of the bay below will relax and rejuvenate your spirit. Dimensions: 36 ft x 16 ft. More Pictures
---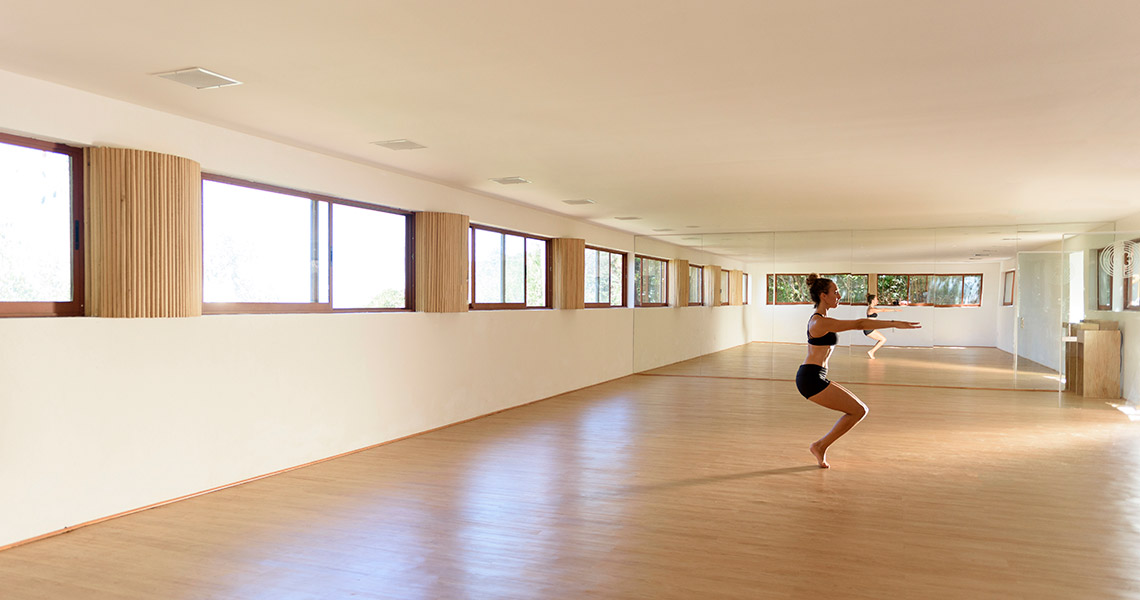 Hot Yoga Studio
Best retreat center for hot yoga Xinalani is now one of the very few retreat centers in the world with a hot yoga room. The amazing Hot Yoga studio is equipped with top-notch heaters that can sustain 105 F heat and 50% humidity. This spectacular 1,250 sq. ft room with a back wall covered with floor-to-ceiling mirrors, optional A/C and a front window with ocean and jungle views is large enough to host hot yoga classes of up to 40 mats. Dimensions: 50 ft x 25 ft. More Pictures
---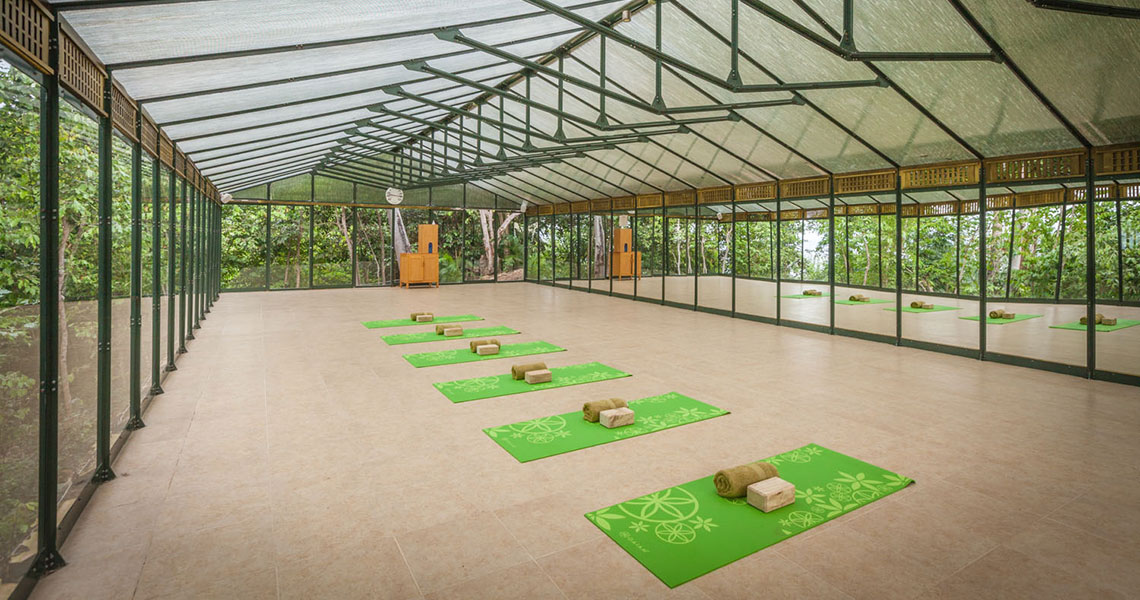 The GreenHouse
Great for all yoga styles The GreenHouse is a one of a kind studio, partially closed and fully immersed in the jungle. Its design is minimalistic and creates a space embraced by its surroundings. It has glass windows and mirrors that create a cozy environment. Like all of our studios, the GreenHouse is fully equipped with a high-end sound system, mats, straps, blankets, and blocks, stools, sound system.  Length: 50 ft. Width: 25 ft. Capacity: 40 mats. More Pictures
---
Sand Terrace
Surround yourself with prana in a beautiful ocean scenery
Practicing so close to the ocean creates an amazing feeling of natural power and is a great addition to the Xinalani yoga experience. The Sand Terrace can accommodate classes of up 50 student. More Pictures
---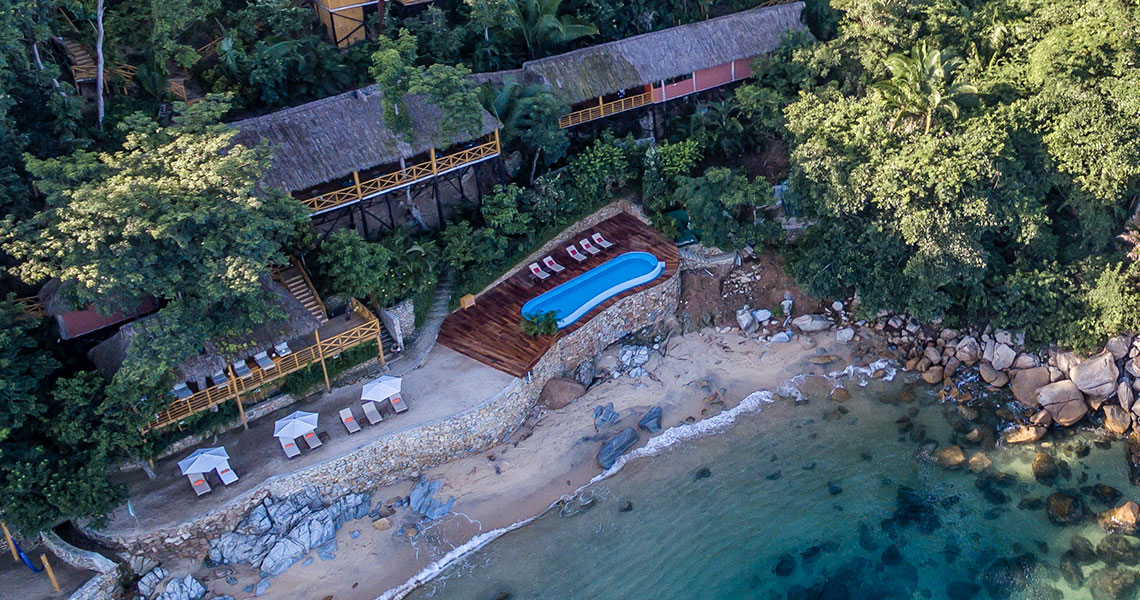 Pool Deck
Pool side sun salutations
Some guests are distracted by the sand. The newly built tropical wood pool deck is the latest yoga space available to them with a clean flat floor. Enjoy the infinity of a mind expanding flow. The Pool Deck for up to 15 students.  More Pictures
---
Resident Yoga Teachers
Meet the Resident Yoga Teachers and sign up for a yoga or meditation workshop sitable for all levels. Lift your spirit guided by one of our certified instructors in the Xinalani's stunning yoga studios.
Teachers