Back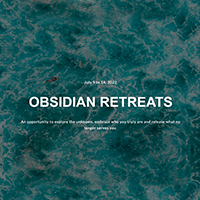 Obsidian Retreats: Untamed
From July 9 to 14, 2022
A five-day immersion of movement, sound healing, breathwork & more. Join us for an expansive week of self-healing and connection.
Calling All Souls Who:
Feel run down from their day to day life.
Feel pressure to always have their shit together.
Feel they can't express all their emotions due to fear of being too much.
Want more authenticity.
This experience is for YOU to embrace your wild nature!
You will learn:
How to release your tamed self and lean into your wild nature.
How to build strong relationships by being authentic.
How to embrace your full self and stop hiding behind a mask.
This retreat is Sold Out
Save your spot