Back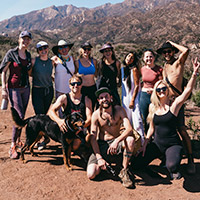 Self-Realization & Empowerment Retreat
From February 12 to 19, 2022
Gather in Mexico for Lotus Retreat's 5th year retreat reunion with our community of friends & family! We're calling in a very special group of Lotus Retreats family for this 8-day and 7-night epic adventure into the coastal jungles of Mexico.
Each day of the retreat will be spent practicing Yoga with our teachers offering a variety of styles, as well as daily meditations, breath work, journal prompts and workshops tailored to the theme of the day.
We will offer a variety of cultural immersions to fully experience the natural, cultural and spiritual beauty of the land! we've designed a very intimate itinerary of offerings to include nature treks, waterfalls, swimming with dolphins, surfing, traditional temazcal ceremony, and special fire ceremony to honor all the elements of life.
There is truly something special for everyone to gain from this retreat experience! Begin your Yoga practice, expand an existing practice, dive deep beneath the layers of the energetic system, connect with like-minded individuals, build community and explore the lush land of Mexico for an unforgettable experience.
Save your spot