Back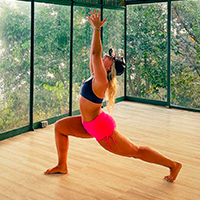 Sunkistlizbit Yoga Retreat
From March 30 to April 6, 2024
Treat your body, mind and spirit with this exclusive yoga retreat to Xinalani with Elizabeth Bliach. Nestled between lush jungle and emerald ocean, this is a special gem where you will feel blissed from the inside out. Xinalani is only 12 miles south of Puerto Vallarta International Airport by boat. Personalized transportation service will escort you from the airport to Xinalani.
Xinalani has 6 beautiful yoga spaces, a temazcal (ancient sweat lodge), beach club, lounge bar, sand terrace, oceanfront spa, sauna, and a restaurant for yogis. Xinalani is a sanctuary of wellness and serenity. This retreat can be as active or as chill as you would like. Enjoy special spa services, kayaking lessons, beach bonfires, ice baths, eco trails, zip lining, cacao ceremony, waterfall hikes, and more!
This retreat includes 7 day/night accommodations, airport transfers, scenic boat ride to the retreat center, healthy dining for all meals, and daily yoga practices.There will be a variety of hot yoga, power, flow, slow flow, yin/yang, yin, and meditation to name few!Does note include:Airfare, gratuities, tipping, spa services, excursions, and alcohol.
Rooms are limited, first come first serve!