Back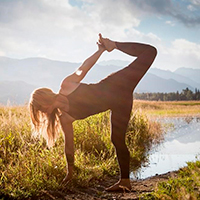 The confluence of yoga, neuroscience & happiness
From February 18 to 25, 2023
This retreat will explore the confluence of yoga & well-being; focusing on practices that help reduce tension and stress in your body so you can leave feeling energized and rested. We'll explore the ancient practice of yoga and how that relates to a healthy emotional & physical life.
The teachings and practices this week weave in scientific research as it relates to neuroscience & the nervous system, yoga postures, breathwork, and meditation techniques. The wisdom of these ancient and modern teachings work collaboratively to improve the function and strength of our nervous system, neuropathways, and ultimately a life of vitality and happiness.
If you want to deepen your yoga practice this retreat is designed for you.
Expect the retreat to be playful and energizing while also supporting you in restoring your mind and body. Whether you're an advanced practitioner or newer to the practice, you'll be able to practice at your own level.
This retreat will feel energizing, healing, and grounding. In this era of 'busy' it can be challenging to maintain a sense of inner peace and steadiness. The intention of this retreat is to unplug from life and reconnect with your own source of wisdom and power.
The yoga will be a mix of flow/vinyasa, restorative, meditation, breath and yin practices. The days include a morning and late afternoon practice. You'll have time to explore, sleep, play, connect, eat delicious healthy food, enjoy quiet time by crystal blue waters, or wander the trails around Xinalani.
There's also opportunities for day excursions and adventures as well as doing some one on one work with me. Please contact me directly with any questions, noellebovon8@gmail.com.
For more information about Noelle Bovon visit noellebovon.com
Save your spot