Back
Xinalani Homemade Granola Recipe
|
August 9, 2017, 7:28 am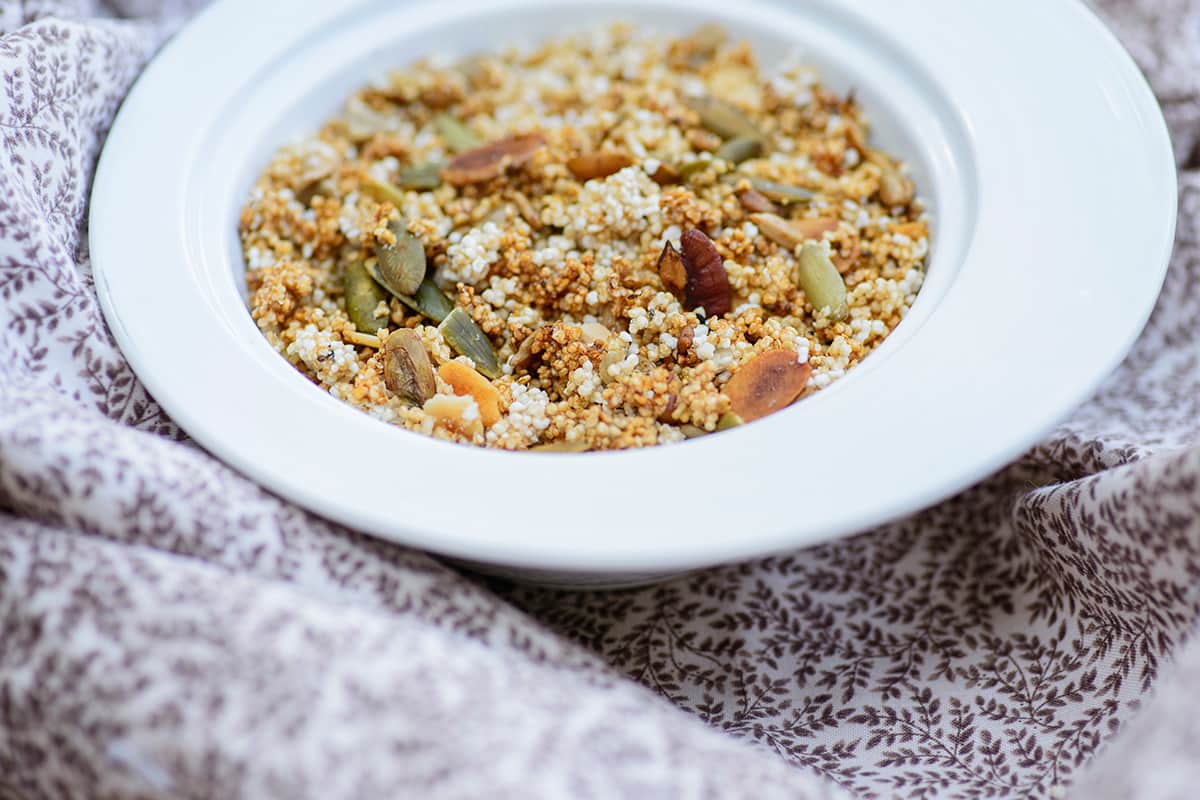 Okay, let's have a little talk about our granola. How many times have you tried it during your stay with us? You like it, yes? For all of those who have been at Xinalani Yoga Retreats in Mexico, you know you can eat as much as you like during your stay with us and also get a bag to take home with you before leaving our retreat center.
Xinalani's All Inclusive Packages
But since we have had many requests from several of our guests, our Chef has decided to give you all a piece of his creations and share the recipe so you can make it at home! Sweet! Since it's so easy to make, now take charge of your granola destiny!
We have two different versions according to your taste, but both are variations on the same simple formula. It requires 5 tools, and you have them all: a bowl, measuring cups, a spoon, a pan, an oven. If you like to put things in a bowl and stir them, great! You have the necessary skills to make our granola. Besides, baking it will make your entire home smell like HEAVEN. Nutty, sweet, amazing heaven.
Beautiful Eco Chic Rooms and Beach Casitas
Ingredients for our Gluten Free Homemade Granola
700g of Amaranth
200g of pumpkin seeds
200g of pecan nuts
200g of almonds
200g of chia seeds
200g of sunflowers seeds
200g of flaxseed
200g of ground cacao beans
200g of brown sugar
200ml of Coconut oil
250g of agave nectar
Ingredients Regular Granola
3kg of oatmeal
200g of pumpkin seeds
200g of pecan nuts
200g of almonds
200g of chia seeds
200g of sunflowers seed
200g of flaxseed
200g of brown sugar
200ml of Coconut oil
250g of agave nectar
For all the ingredients, make sure it's in small pieces (sliced or chopped if necessary).
How to Mix & Bake
Directions are the same for both:
1- Pre-heat the oven to 180 ºC. Measure grain, nuts, seeds, into a large bowl.
Combining the agave nectar with a little brown sugar and the coconut oil can add a nice caramelized, crackly edge. Skip regular white sugar; it won't incorporate well or add flavor.
2- Add sweeteners and oil. Mix everything. Use those advanced stirring skills and stir away!
Coconut oil is important because it encourages the granola to get delightfully crispy-crunchy, keeps it from turning into a sticky mess, and makes it generally more delicious.
3- Spread out on a large baking sheet over a shallow metal pan for oven cooking.
It helps to have fairly deep edges all around, so the granola doesn't explode all over your kitchen when you stir it.
4- Bake at 180 ºC for 30-45 minutes, giving it a stir after about 20 minutes.
All ovens are different, so check yours at the earlier end of the time range to see how brown it is, and keep a nose out to make sure it's not burning. Keep it in the oven until it's crispy. Make sure to whisk every 8 minutes to prevent clumping mass.
5- Stop when the granola looks toasty brown and smells incredible.
Let the granola cool completely in the pan, then store in an airtight container to keep it fresh for longer.
And it's a wrap! Now serve it with you favorite fruit and maybe some yogurt for the perfect breakfast or a healthy snack!
Now that you have Xinalani's recipe you can start making granola at home! It's good for your soul. You will be a more fulfilled and enlightened human!
If you need more inspiration when it comes to the kitchen, try Xinalani's recipes for body and soul on your next vacation!
Rooms and Casitas
All Inclusive Packages