Back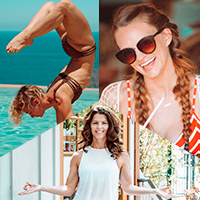 Shake the Dust Yoga & Energy Awareness Retreat
From February 25 to March 4, 2023
Join us as we "Shake the Dust" so to speak through self-exploration and expansion through physical asana, meditation, and energy work. Our journey takes place at Xinalani – an exclusive Yoga Retreat Center nestled along the coast of the emerald ocean in the lush jungle surroundings of Puerto Vallarta. We will work through creative yet approachable chakra focused yoga sequencing twice daily meant to invigorate and restore, bringing balance to the mind, body and spirit, accessible to all levels!
In addition to yoga, you will have the opportunity to learn more about reiki and Human Design. Reiki is a natural hands on healing technique that uses "universal life force energy", the energy that is flowing abundantly around and within all living things. Human Design is a system that blends together concepts found in the Chinese I'Ching, Western Astrology, the Kabbalistic Tree of Life, and the Chakra system. The unique energies that comprise your body graph are determined by your natal chart information. Together, these energies weave the story of who you came here to be and what karma you came here to correct.
MINI PHOTO SESSION As a group, our retreat experience will be documented. Opt in to receive a mini individualized 15 minute photo session at a location of your choice. Return home with professional vacation photos of you in paradise!
Collectively we will move, feel, breath, and bond, enjoying all of the beauty that connection offers
Click this link for more detail: https://www.thekaleide.com/mexico-2023
Save your spot