Back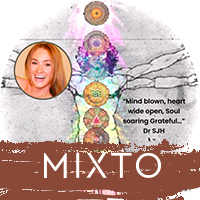 Union: the Centers & Beyond
From April 27 to May 4, 2024
Join us on a yogic journey within to create union with thySelf and all that is. Through active yoga practice, restorative yoga and meditation, we will explore the energetic system as a vehicle to pierce the veil that holds us in a state of separation, and harness the power of the main energy centers to dance in the fire of transformation.
Immersed in the natural beauty of the environment and nourished by delicious healthy meals, we will foster deep communion with new and old friends, and be nurtured by the renowned accommodations that Mixto and Xinalani are known for. There will be ample free time to enjoy optional eco-activities and spa treatment add-ons, or to simply indulge in relaxation at the beach, pool or your retreat room.
There are rooms available at Xinalani for adults only and at Mixto where families are welcome.
Only 3 rooms left! Sign up today to secure your room and the discounted Early Bird Rate listed below!